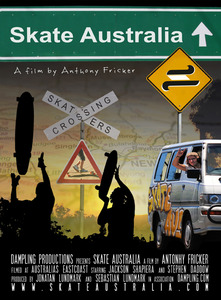 Project Television provides press contact and technical services for the documentary
Skate Australia
A FILM BY ANTHONY FRICKER
in association with Dampling Productions
download the Skate Australia Press Kit in pdf format: Skate Australia Press Kit
Skate Australia has been screened at
Byron Bay Film Festival 2011 (winner Best Byron Bay Film)
Vail Film Festival 2011
Dungog Film Festival 2011 - the largest festival dedicated to Australian Films
A review can be found at skate[slate]
For more information visit the website skateaustralia.com.au, or please contact:
Richard at Project Television Pty Ltd

Tel : +61 (0) 402 066 290
Email: Due to the high level of spam we do not offer a link to our email address.
The email address below must be entered manually, with [a] replaced with @.
projecttv[a]tpg.com.au
Sydney based video production company servicing Australian and international markets.
Copyright (c) Project Television Pty Ltd 1996 - 2011
Home Stereoscopic 3D Contact Credits Showreel and Testimonials Links